Jess House
---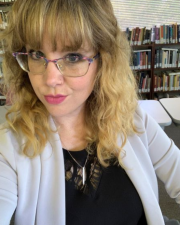 Graduate Teaching Assistant
she/her
Biography
—
Jess House is a PhD student in Literature at the University of Kansas. As a fangirl turned academic, her interests include Jane Austen, fairy tales, young adult literature, pop and fan culture, and adaptation studies. She holds a master's degree in English along with a Graduate Certificate in Teaching College-level Literature and Film from the University of Colorado at Denver and a bachelor's degree in English from Vanguard University of Southern California. Her current research is in the origins of the YA fairy tale adaptation movement and Austen film adaptations.
Jess has a passion for teaching and has taught freshman and sophomore composition at the University of Colorado Denver. What excites her most is seeing students engage with their own interests in an academic and rhetorically informed way.
Education
—
M.A. in English, University of Colorado, Denver
Specialization
Jane Austen, women's literature, children's literature, Young Adult literature, fairy tales, romance, feminist theory, film and film adaptations, literary adaptations
Selected Presentations
—
"Coming of Age in a Fairy Tale: The Influence of Robin McKinley's 'Beauty' on a New Genre," Pop Culture Association National Conference, June 2021, Boston, MA (virtual).
Upcoming: "Adapting Between the Lines: How Film Versions of Pride and Prejudice Approach Austen's Dialogue Dilemma," Southwest Popular/American Culture Association, Spring 2023.