Andrew Korah
---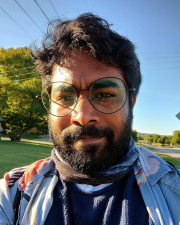 Graduate Teaching Assistant
He/Him
Biography
—
I am a PhD student in Literature at the KU English Department. I submitted my Master's dissertation on the topic of aesthetics and form in the works of Philip K Dick. My research interests are specifically in Science Fiction but are also situated within the broader categories of speculative fiction and mythmaking. I enjoy analyses of form, prosody, and close reading, which I use to explore our larger cultural understanding of aesthetics. Outside of academia, I enjoy cycling, hiking and hanging out with trees.
Education
—
B.A. in English , Christ University, India
Honours
M.A. in English, Jawaharlal Nehru University, India
Specialization
My specializations are in speculative fiction, but I am also particularly interested in poetry and prosody, the techniques of which I often apply to my analyses of speculative fiction.
Research
—
For my research I am interested in working on the writings of Philip K Dick, Cordwainer Smith and Ursula K Le Guin. Specifically, I aim to look at their writing styles and their approaches to "Truth" through aesthetics and mythmaking.
Teaching
—
I currently teach English 101: Composition, which is focused on developing the rhetorical skills of first year undergraduate students in order to improve their writing and composition. I have previously taught a course on 20th Century Fantasy Novels at Jawaharlal Nehru University.
Selected Publications
—
"The Construction of the Cyborg Player in Transistor: A Ludo-Narrative Analysis," Published in the Samyukta Journal of Gender and Culture, vol. XX, July 31, 2020.
Selected Presentations
—
'"To Pray to the Stars": The Nonmoral Devotion to Beauty in Dunsany's Fantasy' presented at Dissenting Beliefs: Heresy and Heterodoxy in Fantasy 2021, an online conference on Fantasy fiction, organized by Glasgow University's Centre for Fantasy and the Fantastic.
'Gendered Mechanics: A Ludological Approach to Gender in Games' Presented at Chinese DiGRA 2017, a video game conference held in Hong Kong Polytechnic University, Hong Kong.
Awards & Honors
—
Best Paper for the paper titled "Gendered Mechanics: A Ludological Approach to Gender in Games" at the 2016 International Gender Conference organized by the English Department at Christ University, Bangalore.