Megan Kaminski
---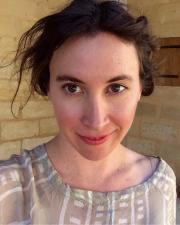 Biography
—
My writing and teaching focus on connecting to our shared ecosystem as a source of knowledge and inspiration for strategies to live in the world, to grieve and heal after loss, and to re-align thinking towards kinship, community, and sustainability. I see writing as a practice by which we think about and engage with the world—a practice that fuses lived experience with critical and creative inquiry.
My writing is informed by interdisciplinary and collaborative research in social welfare, evolutionary biology, the visual arts, and philosophy, as well as previous work in the healing arts and at non-profit environmental organizations. My forthcoming third book Gentlewomen explores gender constructions, through a revision of gendered domesticity, sisterhood, and a re-imagining of the voices of female allegorical figures. My second book Deep City renders the city and the body as architectures in crisis. The poems explore the city and suburbs as container and contents of collective memory and investigate how space shapes the body/ how we create space. My first book Desiring Map explores human possibility in nature through the landscape (both natural and constructed) of diverse regions.
By exploring ideas of indeterminacy, rootedness, and resilience, my current book project, Withness, uses plant thinking as a model for response to our current moment and in thinking towards the future. Specifically, I'm interested in how thinking with plants can expand our concepts of sentience, connectedness, and compassion — perhaps in thinking of fungal networks connecting trees to share information across the forest, the epigenetic inheritance of traits through subsequent generations of plants, and "kin recognition" amongst a variety of species. What neglected knowledge can plants share when we encounter them as subjects rather than as setting? The poems coming out of this project both attempt to enter into a world co-present with but other than our own and to see vegetal inhabitance as a model of unconditional generosity in the face of vulnerability.
My public-facing work, in the form of Prairie Divination Deck (w/ L. Ann Wheeler) and the Ad Astra Writing Project, focuses on ways to help navigate uncertainty and change, to counter extractive and exploitative values and relationships with land and peoples (human and otherwise), and to provide the basis for relationships of interdependence, kinship, and care towards a sustainable future in our common home.
More information and links to publications and current projects can be found on my personal website.
Research
—
Poetry and Poetics, Ecosomatics, Queer Ecology, Plant Studies, Nonfiction, and Environmental Humanities
Selected Publications
—
Books
Gentlewomen. Noemi Press, 2020.
Deep City. Noemi Press, 2015.
Desiring Map. Coconut Books, 2012.
Chapbooks
Withness. above/ground press, 2019.
Each Acre. above/ground press, 2018.
Providence. Belladonna*, 2016.
Seven to December w/Bonnie Roy. Horse Less Press, 2015.
Sigil and Sigh w/Anne Yoder, Dusie, 2015.
Wintering Prairie. Dusie and above/ground, 2014.
This Place. Dusie, 2013.
Gemology. Little Red Leaves Textile Editions, 2012.
Favored Daughter. Dancing Girl Press, 2012.
Collection. Dusie, 2011.
Carry Catastrophe. Grey Book Press, 2010.
Across Soft Ruins. Scantily Clad Press, 2009.
Poems and Essays
Over 200 poems and essays published or forthcoming in peer-reviewed literary journals, including The Academy of American Poets, The Atlantic, American Poetry Review, Cutbank, Denver Quarterly, Puerto del Sol, Seneca Review, and other journals.        
Awards & Honors
—
Arte Studio Ginestrelle Resident Fellow, 2020.
Bernadette Gray-Little "Expanding the Reach" Award, 2019.
Finalist, H.O.P.E. (Honor for the Outstanding Progressive Educator) Award, 2019.
Scholars on Site Grant (for the Ad Astra Writing Project), 2019.
Keeler Family Intra-University Professorship, 2018.
Byron Caldwell Smith Book Award, 2017.
Andrew W. Mellon Foundation Integrated Arts Research Initiative Faculty Fellow, 2016.
Hall Center for the Humanities Creative Work Fellow, 2015.
Summer Forum for Inquiry + Exchange Resident Fellow, 2014.
Kimmel Harding Nelson Center for the Arts Resident Fellow, 2014.