Lydia Benda
---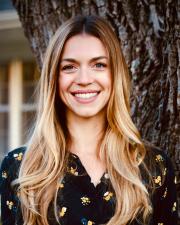 Graduate Teaching Assistant
Biography
—
Lydia (Krug) Benda is a PhD student in Rhetoric & Composition and a GTA in the Department of English. Lydia holds a bachelor's degree in journalism from The University of Kansas. Her research interests include, primarily, the rhetorics of health and wellness as they relate to nutrition, environmentalism, and animal rights. In tandem, Lydia hopes to pursue further research about equitable and sustainable food systems and what government-backed health initiatives (such as subsidies, WIC, SNAP, etc.) do or don't do for people and the planet.
Secondarily, she is pursuing a graduate certificate in Medieval and Early Modern Studies to learn more about the history of the book, early manuscripts, and the Bible – because nothing is new under the sun.
Lydia has published articles for Kansas Alumni magazine, Mother Earth News magazine, and on various platforms for Lutheran Hour Ministries. She has also proofread and edited several published books.