Hannah Scupham
---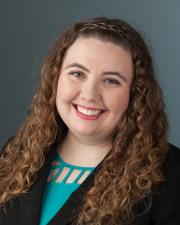 Biography
—
Dr. Hannah Scupham is a postdoctoral fellowship lecturer at the University of Kansas (KU) whose research focuses on the nineteenth-century novel, British literature, popular romance studies, readership, affect theory, and postcritique. She earned her Ph.D. in 2022 from KU and her dissertation, "Reader, I Married Him'": Readership, Imagination, and Politics of the Marriage Plot in the Nineteenth-Century Novel, explores the affective politics of the Victorian marriage plot as well as contemporary reimaginings of the Victorian period through mass-market romance novels. Her scholarship has been awarded the Joan M. Leach Memorial Graduate Student Essay Prize (Gaskell Studies) and she was the 2022 recipient of the Romance Writers of America Academic Research Grant. She received her M.A. in English Literature from KU, and her B.A. in English and German from Valparaiso University. Scupham also holds a graduate certificate in Women, Gender, and Sexuality Studies from KU. Formerly a member of the tenth cohort of Lilly Graduate Program Fellows, she was also the recipient of a Fulbright Teaching Assistantship in 2013-2014. Her work has appeared in the Wilkie Collins Journal and the Gaskell Studies Journal.
Research
—
British literature, 19th century, Victorian, popular romance studies
Selected Publications
—
"The Desiring Gaze, Affective Narration, and Sexual Realism in North and South," The Gaskell Journal, Volume 36, 2022. (Joan Leach Memorial Graduate Student Essay Prize Winner)
"Sensational Umwelten: The Woman in White and Semiotics", The Wilkie Collins Journal, Volume 15, 2018.
Selected Presentations
—
"The Homefront of "The War on Christmas": Great American Family's Holiday Romance Films, Domesticity, and the Rise of Christo-Fascism." IASPR: International Conference on Popular Romance Studies. Birmingham, UK (hybrid), June 2023.
"The Way We Read Now: Modern Romance Novels, Readership, and Reimagining the Nineteenth Century." Popular Culture Association Annual Conference: Romance Area. Online, 2021.
"Uncorseted: Victorian Studies and the Romance Novel." Hall Center for the Humanities: Interdisciplinary Graduate Workshop. Lawrence, KS, 2019.
"Armadale in America." Research Society for Victorian Periodicals (RSVP). Kansas City, KS, 2016.
Grants & Other Funded Activity
—
Argersinger Dissertation Award, University of Kansas, 2023, English department nominee
Chancellor's Fellow, University of Kansas, 2017-2022
Joan Leach Memorial Graduate Student Essay Prize, The Gaskell Journal, 2022
Romance Writers of America Academic Research Grant, 2021
Graduate Fellow, Lilly Graduate Fellows Program, 2017-2020
Fulbright Grant, English Teaching Assistantship (Saxony, Germany), 2013-2014