Giselle Anatol
---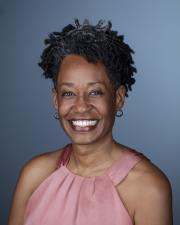 Biography
—
When I was a child, my mother, aunts and uncles, and grandmother regaled me with stories of the soucouyant, a demonic figure from Trinidadian folk culture. The soucouyant appeared to be a withered old woman during the day, but at night she peeled off her skin, transformed into a ball of fire, and flew from house to house, where she sucked the blood or life essence of her unsuspecting neighbors. My recent book—The Things That Fly in the Night—explores representations of vampirism in African diasporic folk traditions and contemporary literature, especially the recent proliferation of narratives among writers of African descent (such as Edwidge Danticat, Octavia Butler, Nalo Hopkinson, David Chariandy, Toni Morrison, and others) who take up the monstrous character and reconfigure it to urge for female mobility, racial, cultural, and sexual empowerment, and/or anti-colonial resistance.
Research
—
Areas of Research - Caribbean and Caribbean Diaspora Literature, especially 20th- and 21st-century women's writing, African American Literature, and Children's and Young Adult Literature, particularly representations of race and gender in narratives for young people.
Selected Publications
—
Anatol, Giselle Liza. "Getting to the Root of US Healthcare Injustices through Morrison's Root Workers." MELUS (January 2022). https://doi.org/10.1093/melus/mlab053 
"The Sea-People of Nalo Hopkinson's The New Moon's Arms: Reconceptualizing Gilroy's The Black  Atlantic through Considerations of Myth and Motherhood" in Diasporic Women's Writing of the Black Atlantic: (En)Gendering Literature and Performance. Eds. Emilia María Durán-Almarza and Esther Álvarez-López. New York: Routledge 2013. 202-17.
"Using Film to Enhance Cultural Understanding: Images of Jamaica in How Stella Got Her Groove Back and The Harder They Come." Teaching Anglophone Caribbean Literature. Ed. Supriya Nair. New York:  Modern Language Association of America, 2012. 183-98.
"Trailing in Jonathan Harker's Shadow: Bella as Modern-Day Ethnographer in Meyer's Twilight Novels" Co-authored with Joo Ok Kim. Bringing Light to Twilight: Perspectives on the Pop Culture Phenomenon. Ed. Giselle Liza Anatol. New York: Palgrave, 2011.  191-205.
"Children's and Young Adult Literatures." The Cambridge History of African American Literature. Eds. Maryemma Graham and Jerry W. Ward, Jr. New York: Cambridge UP, 2011. 621-54.
"The Replication of Victorian Racial Ideology in Harry Potter." Reading Harry Potter Again: Critical Essays. Ed. Giselle Liza Anatol. Westport, CT: Praeger/Greenwood, 2009. 109-26.
"Maternal Discourses in Nalo Hopkinson's Midnight Robber," African American Review Vol. 40, No. 1 (Spring 2006): 111-24.
"A Feminist Reading of Soucouyants in Nalo Hopkinson's Brown Girl in the Ring and Skin Folk," Mosaic: a journal for the interdisciplinary study of literature. 37.3 (September 2004): 33-50.
"The Fallen Empire: Exploring Ethnic Otherness in the World of Harry Potter." Reading Harry Potter: Critical Essays. Ed. Giselle Liza Anatol. Westport, CT: Praeger/Greenwood, 2003. 163-78.
"Speaking in (M)Other Tongues: The Role of Language in Jamaica Kincaid's The Autobiography of My Mother."  Callaloo 25.3 (Summer 2002): 938-953.