Colleen Morrissey
---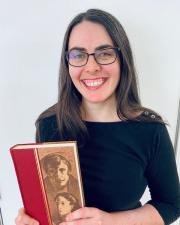 Biography
—
Colleen Morrissey, Ph.D., is an author, educator, and scholar of humanities. She was born in Omaha, Nebraska and now teaches English at the University of Kansas. Previously, she taught at the Columbus College of Art and Design, and most recently she was the head of the Valparaiso University Writing Center.
A writer of prose, poetry, and criticism, she was awarded an O. Henry Prize in 2014 and has been a Best American Short Stories Notable. Her critical writing and research explores literature and culture, narrative art, women writers, digital media, and media history. It can be found in Studies in the Novel, The Chicago Reader, BitchMedia, The Rumpus, and various scholarly collections.
Her fiction has appeared in The Southern Review, Alaska Quarterly Review, Southeast Review, Cincinnati Review, and elsewhere. Her poetry has appeared in Third Coast Review, Parcel, and Blue Island Review.
Full CV available upon email request.
Education
—
B.A. in English, University of Iowa
M.A. in English, University of Kansas
Ph.D., Ohio State University