Beatrice Abisola Akinsiku
---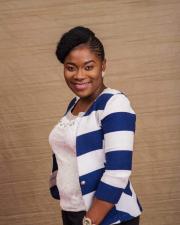 Graduate Research Assistant
She/Her
Biography
—
(Beatrice) Abisola Akinsiku (she/her) is a Ph.D. student in English (Literature) focusing on Women's Literature and its digitization. Previously, she attended Joseph Ayo Babalola University, Nigeria, where she received her bachelor's with honors and served as a GTA. She completed her master's degree in English (Literature) at Southern Illinois University Edwardsville with distinction. In the fall of 2019, Abisola received the Competitive Graduate Award, which allowed her to research the history of female fiction writing in Nigeria, starting with Flora Nwapa. She found that some of the fictional texts self-published by first, and second-generation Nigerian women writers are gradually going into extinction; they need to be recovered and digitally preserved. Her scholarly interests include African women's literature, digital humanities, gender studies, and Black literature. Her master's thesis focuses on the representation of blackness in selected African diasporic texts written by women of Nigerian descent. In her thesis, she shows how contemporary African women writers are extending the frontiers of their narration to capture the diasporic experience in the twenty-first century, thus providing context for the experiences of women migrants as they move from the global South to the global north. Abisola plans to continue teaching after completing her doctoral degree.
Education
—
B.A. in English Literature, Joseph Ayo Babalola University, Nigeria
M.A. in English Literature, Southern Illinois University Edwardsville
Specialization
Women's Literature (African Women's Literature, Black Women's Literature), Digital Humanities, Gender Studies, Postcolonial feminist theory, Colonial and Postcolonial Studies
Teaching
—
I taught ENG 101, ENG 102, LIT 101, LIT 102 at Joseph Ayo Babalola University
Selected Publications
—
"Representations of Blackness in Nigerian Literature: Chika Unigwe and Chimamanda Ngozi Adichie," 2020.
Selected Presentations
—
"Rural Wives, Urban Wives: The Question of Sexual Nobility in African Literature of Nigerian Origin," 7th European Conference on African Studies, June 2017, Basel, Switzerland.
Awards & Honors
—
Christ Apostolic Church Great Britain Award for the Best Graduating Student in English
University Scholar Award 2008-2012
Competitive Graduate Award Recipient (CGA)
Grants & Other Funded Activity
—
Competitive Graduate Award Recipient (2019)
Memberships
—
Reading Association of Nigeria