Zachary Smith
---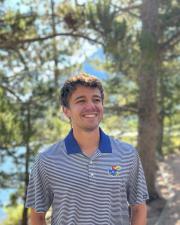 Graduate Teaching Assistant
he/him
Biography
—
Zachary Smith is a fourth-year Ph.D. student in Rhetoric & Composition at the University of Kansas. He is originally from South Elgin, Illinois and received his B.A. in English from the University of Alabama. His current research focuses on geographic rhetorics, technical and professional communication, materialism, and community-engaged pedagogy. Additional interests include: the works of Stephen King, Southern Gothic Literature, ecocomposition, poetry, and strategies for facilitating engagement in writing centers and first-year composition programs.
Education
—
B.A. in English (Minors in Interdisciplinary Linguistics; Creative Writing), University of Alabama
Teaching
—
English 101: Composition; English 102: Critical Reading and Writing (Composing Communities: Literacies of Lawrence); English 203: Professional Communication; English 362 Technical Writing
Selected Publications
—
"A Writing Center Love Letter," Student Writing Tutors in Their Own Words, Routledge, June 2022.
Selected Presentations
—
"Literacies of Lawrence: Composing Communities," Conference on College Composition & Communication (CCCC), Chicago, IL, February 2023
"Revisiting the Doorway: Spatial Orientations of Justice in Alabama Higher Education," College English Association (CEA), Birmingham, AL, March 2022
"Belonging in Academia: A Pedagogical Approach to World Englishes," Conference on College Composition & Communication (CCCC), Virtual, March 2022
"Navigating Anxiety in Writing Center Communities During the Pandemic," International Writing Centers Association (IWCA), Virtual, October 2021
"Spotted! Problematic Tendencies in Gossip Girl and Potential Resolutions," Midwestern Pop Culture Association (MPCA), Minneapolis, MN, October 2021
Awards & Honors
—
Outstanding Instructor Award (2023)
Selden Lincoln Whitcomb Fellowship (2022)
Frank Cosby Memorial Scholarship (2019)
Russell Memorial Scholarship (2018)
Ethel C. and William T. Hardy Scholarship (2016)
Presidential Scholarship (2016)
Grants & Other Funded Activity
—
Institute for Digital Research in the Humanities Digital Jumpstart (2022)
Applied Humanities Boot Camp (2021)
GTA Flex and Online Teaching Program (2020)