Tiffany Fritz
---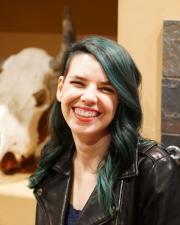 Graduate Teaching Assistant
she/they
Biography
—
Tiffany Fritz (she/they) is an MFA candidate in fiction. They completed their bachelor's degree in Secondary English Education at Northern Arizona University. An alum of Futurescapes and Under the Volcano, she specializes in the use of monstrosity in speculative fiction to explore marginalization and trauma.
Education
—
B.S. in Secondary English Education, Northern Arizona University
Teaching
—
Currently teaching English 101.